Some otherTerra Nova artifacts.
---
Episodes: 18 & 46a. Site Numbers: 008, 149, 150, 153, 158, 159, 199. Date Posted: 11 August 1996. Update 12 March 2000. Location: Various. Type: Various.
---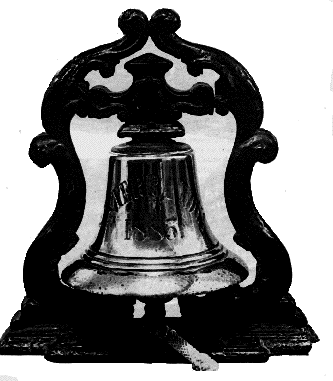 The last episode was devoted to the Oates Memorial Museum in Selborne. One item in the collection is a life ring from the Terra Nova, the ship associated with Scott's Last Expedition (but a polar veteran on its own account).
In concluding that episode I asked whether anyone might know of other Terra Nova artifacts still surviving. Well, no one responded and so the $1,000 prize remains unclaimed! Shame on you SPRI! Why? All Antarcticans should know that morning coffee and afternoon tea at the Scott Polar Research Institute are announced by a toll or two on a ship's bell, bronze, polished and handsome on the stairway landing as one proceeds up to that superior library and archive on the first (second) floor. What bell? Terra Nova's, of course! (008).

Other Terra Nova sites? Cardiff has many Scott associations. Significant financial support came from Cardiff men and it was from that port city that Terra Nova finally departed for the south, after being coaled (and well wined). Fittingly, the ship's figurehead ended up in Cardiff and now resides in the National Museum of Wales," according to the interesting book by Anthony Johnson, Scott of the Antarctic and Cardiff. (It's actually at the Welsh Industrial & Maritime Museum in the Cardiff Docks (149, 199)). At the base of the figurehead is a brass plaque that reads: "Figurehead of British Antarctic Expedition Ship "Terra Nova" in which Captain Scott and other members of the Expedition, sailed on the 15th June 1910, from the port of Cardiff. Presented to the Cardiff Corporation by Frederick Charles Bowring , Esq, J.P. of Liverpool. 8th. Decr. 1913."
Johnson writes that "The figurehead of the Terra Nova was formally presented to the City of Cardiff by Mr F. C. Bowring at a ceremony...on 8 December 1913. He suggested that the Terra Nova, through her ownership and her Welsh commander, might be looked upon as a Cardiff vessel. If left to the elements the life of the wooden figurehead by its very nature was bound to be of limited duration, and at the end of his speech Mr Bowring announced that he would be prepared to erect, at his own expense, a memorial in the form of a clock tower... which would serve as a permanent reminder of Scott and his companions and of the unique connexion between Cardiff and the British Antarctic Expedition (1910)."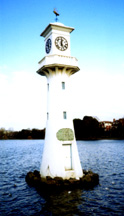 John Smith, Clockmakers of Derby, were engaged to produce a clock for the Tower.... It was agreed that the Clock Tower, in the form of a light house, should be sited at the south end of Roath Park lake in front of the embankment where the figurehead of the Terra Nova had been placed. The construction of the Tower itself...was completed by January 1915, at a cost of £159.6s.8d.... More than three years after its completion, on Monday, 14 October 1918, less than a month before the end of the First World War and more than six years since Scott and his companions had lost their lives in the Antarctic, the Clock Tower was officially presented to the City of Cardiff by its donor, Mr F. C. Bowring. Since that time, and effectively since 1915, the Clock Tower, dedicated to Capt. Scott and his brave companions, has stood as a familiar sight to all who visit Roath Park lake and as such has served as the principal and most prominent monument to the unique connexion between Cardiff and the British Antarctic Expedition (1910)." (153)
Another site with Terra Nova connections is the Royal Hamadryad Hospital in Cardiff Bay. Four beds were endowed at various times in memory of, respectively, Captain Scott and his four companions, Lieutenant Commander Henry Rennick (lieutenant aboard the Terra Nova), Lieutenant H.L.L. Pennell (navigating officer aboard the Terra Nova) and Captain E.R.G.R. Evans (second in command on the Terra Nova expedition). Although now in storage there were at one time associated plaques above the beds.(150)
In A. G. E. Jones' Polar Portraits, a model of the Terra Nova is pictured on page 169 with the following caption: "A model of the Dundee whaler Terra Nova, which sailed with the Morning in 1903-04 to the relief of Scott's first expedition. She also took Scott's last expedition to Antarctica. The photograph is by courtesy of the director of the museum." [But it's unclear as to what museum, but presumably Dundee.] (158)
Jones goes on to remark that "There is little left from this successful voyage [Scott], apart from a few documents, photographs and the Polar Medal of the first engineer, Alexander Sharp, now preserved in the museum at Dundee." (159)
What the history of the Terra Nova was after Scott is a bit hazy (to me at least). When touring the Discovery years ago (then moored aside the Embankment) I can remember asking a docent about the Terra Nova and was told it had been scrapped. Do any of you know the details of her fate?
An update of Episode 18 (posted as Episode 46a):
In Episode 18, I noted that the figurehead of the Terra Nova "was formally presented to the City of Cardiff by Mr. F.C. Bowring at a ceremony . . . on 8 December 1913." Sometime later I received a long e-mail from Antony Bowring, the great grand nephew of that same F.C. Bowring. The Terra Nova is long gone and and, unlike the Discovery, not a Low-Latitude Antarcitc site, but Mr Bowring's information was so interesting I thought I'd include a good bit of it below:
"SS Terra Nova was a three-masted wooden sealer of 744 tons gross and 187 feet in length. She had an auxiliary steam engine. Built in 1884 by Alexander Stephen & Sons at their Dundee shipyard in Scotland, she was said to be the last whaler to be built in the port.
From 1885 - 1893 she was operated by William Stephen & Co. of St John's Newfoundland and worked in the Labrador seal fisheries under the command of Captain Alex Fairweather.
In 1893 she was sold to David Bruce who, the following year sold her on to the Dundee Seal & Whale Fishing Company.
On 5th January 1898 she was sold to Bowring Brothers Limited of Newfoundland who were themselves engaged in the Labrador seal fisheries.
In 1903 the Terra Nova was leased to the British Admiralty to sail with the Morning to McMurdo Sound, Antarctica in order to relieve Scott's Discovery expedition.
From 1906 - 1909 Terra Nova returned to sealing with Bowring Brothers and in November 1909 she was sold to the Admiralty for Scott's second, ill-fated, Antarctic expedition. She was re-registered as a yacht and flew the White Ensign as Scott was a member of the Royal Yacht Squadron. Bowring Brothers gave a donation to the expedition of £500.
In 1914 Bowring Brothers bought the ship back again for work in Newfoundland and Labrador waters where she continued until 12th September 1943 when she sprang a leak 38 miles off Hollander Island, Greenland, and sank without loss of life.
Apart from her well-recorded history with Scott, Terra Nova was also one of the finest seal fishery vessels in Newfoundland. In 51 seasons she brought in over 850,000 pelts - the third largest number of any sealer. I have to confess, as a member of the Bowring family, I am not particularly proud of the sealing trade. But, in its day, it was considered rather more respectable.
Interestingly, Bowring Brothers of Newfoundland and their British based company C.T.Bowring & Company Limited, owned a number of historic ships.
The Aurora (which took the Australian explorer Douglas Mawson to Antarctica in 1911 and Shackleton to Ross Island in 1914) was also a Bowring ship. Similar to Terra Nova but a bit bigger she was also built by Alexander Stephen of Dundee in 1876. She was lost in 1918 having sailed from Sydney to Iquique, Chile with a cargo of coal.
Mr Bowring goes on to relate his involvement with Sir Ranulph Fiennes and the Transglobe Expedition (he was a member of the crew) and sadly recounts that during that trans-polar expedition '...C.T.Bowring & Company Limited was taken over by the American company Marsh & McLennan who sold all the ships.'"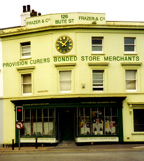 Update 12 March 2000: The Welsh Industrial & Maritime Museum (199) that had been housed in a modern building (demolished) has since been moved to a former ship's chandlery at 126 Bute Street, corner Hemingway Road. When I visited, the museum was closed but I've been told the figurehead is there.
---