AURORA AUSTRALIS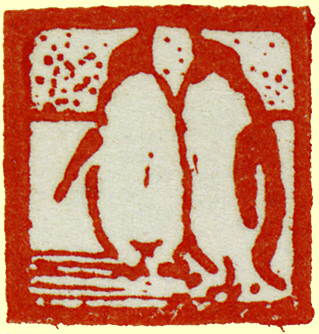 Other Output from the Press at Cape Royds
---

Launched: 3 April 2010. Last updated:
---

Although the Aurora Australis was the main output of the press at Cape Royds, other ephemeral items were turned out, mainly for celebrations. How large the output was and on how many occasions is not known although perhaps more will come to light in time. Below is the first instance I'm aware of. 1. Menu for Midwinter Celebration June 23rd 1908. This example—two separate sheets printed on one side—is included in Copy 103 of the Aurora (Joyce copy). It was printed on the same paper as the Aurora and has three punched holes on the edge so presumably was bound into the Joyce copy at one time (many of the leaves of this copy are loose).
The two images below are from the auction catalogue for the sale at which the Joyce Aurora was put up.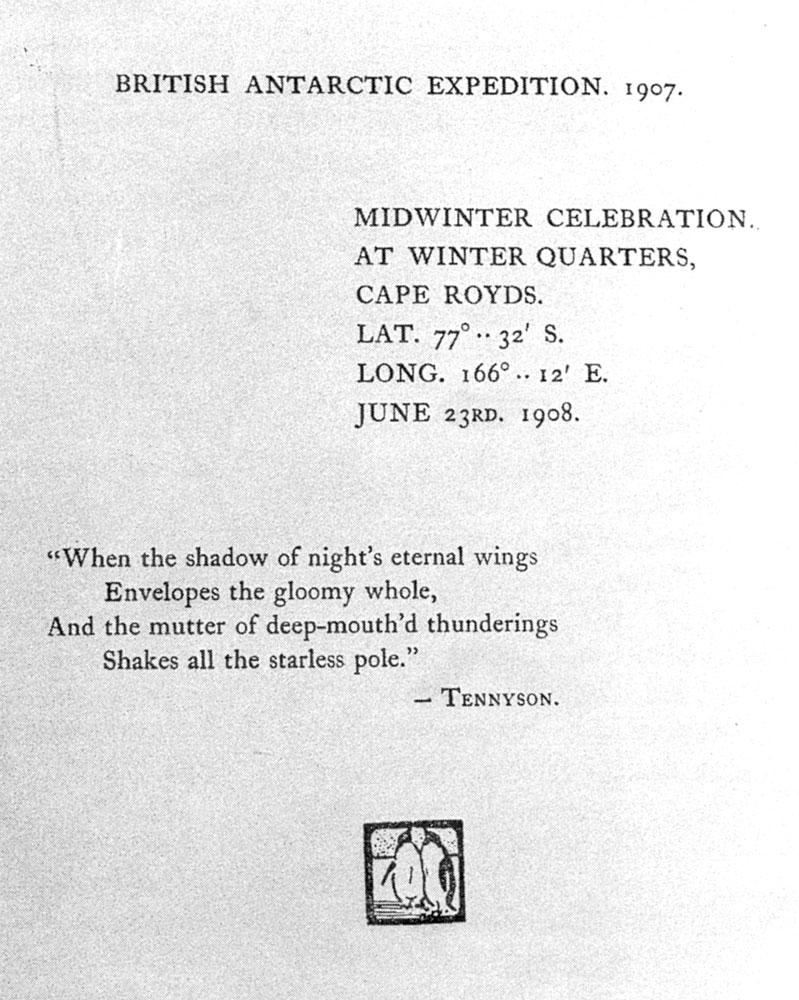 At the Christie's Polar Sale on Tuesday, 25 September 2001, the same item appeared as Lot 54.
54 BRITISH ANTARCTIC EXPEDITION, 1907-1909 British Antarctic Expedition. 1907. Midwinter Celebration. At Winter Quarters, Cape Royds. Lat. 77° .. 32' S. Long. 166° .. 72' E. June 23rd. 1908. [East Antarctica: printed on the Albion Press by Wild and Joyce, 1908]. 3 leaves (26 x 19cm.): blank leaf, etched plate by George Marston printed on verso of second leaf (recto blank), third leaf with text of menu headed by a woodcut vignette (verso blank). Hole-punched and tied with thin green cord within original pink paper wrappers, letterpress title printed on upper cover with 4-line quote from Tennyson and 'Two Penguins' printer's device (small clean tears to edges of wrappers).
PROVENANCE: Sir Ernest Henry Shackleton (1874-1922), and thence by descent.
A VERY RARE PIECE OF EPHEMERAL PRINTiNG FROM THE PRESS WHICH PRODUCED THE AURORA AUSTRALIS. 'After a teetotal regime the Midwinter Day, the Great Polar Festival and Birthday festivals were a release, and an occasion for a 'wild spree'.' (Sir E.H. Shackleton, The Heart of the Antarctic, London, 1909, I, p.216). The same volume shows a photograph of this feast, the hut interior hung with flags, facing p.224.
Estimate: £1,000-1,500 Hammer £8,500; £9987.50 with premium
So it appears that there were three printed leaves within the "pink paper wrappers." The first leaf is blank on both sides. The second leaf is blank on the recto and has an etched plate by Marston on the verso. The third leaf (corresponding to the left image above) has the menu and vignette illustration on the recto and the verso is blank. The image on the right above, then, is from the cover. The Marston etched plate is apparently lacking from the Joyce copy of the Aurora.
---