AURORA AUSTRALIS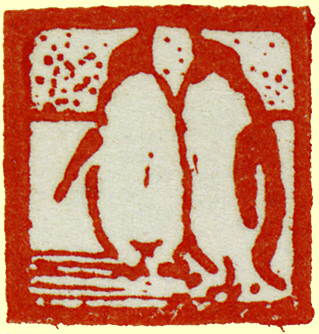 Further Information and Comments on Points and Variants
---

Launched: 30 April 2012. Last updated:
---

1. Cover Stencilling: The stencilling found in the Aurora is always on the inside of the top and/or bottom board, never on the outer surfaces. Some copies have no stencilling, some have stencilling on the inner top board only and some have stencilling on the inner bottom board only. The most common condition is stencilling on both boards.
The following summarizes the stencilling on those copies that have been inspected or for which detailed information has been provided by owners:
6 No stencilling
4 Stencilling on top board only
9 Stencilling on bottom board only
33 Stencilling on both boards
52 Total copies for which complete information on stencilling is in hand.
A variety of words and numbers appear in full or in part in the stencilling. The number of occurences shown on the left. A single Aurora may have one, two or more stencillings. Those listed represent a total of 46 Auroras.
20 BRITISH ANTARCTIC EXPEDITION (all or a portion)
7 BUTTER (all or a portion)
5 VARIOUS NUMBERS
4 FRUIT or BOTTLED FRUIT or CRYSTALISED FRUIT or TINNED FRUIT (all or a portion)
4 J & T Bayley company stamp (all or a portion)
4 MISCELLANEOUS
3 OATMEAL (all or a portion)
2 BEANS or BAKED BEANS (all or a portion)
2 HONEY (all or a portion)
2 JULIENNES SOUP (all or a portion)
2 PETIT POIS (all or a portion)
2 STEWED KIDNEYS (all or a portion)
2 SUGAR or GRANULATED SUGAR or DEMERARA SUGAR (all or a portion)
2 TEA (all or a portion)
2 TURTLE SOUP or MOCK TURTLE SOUP (all or a portion)
2 UNKNOWN WORD(s)
1 CHICKEN (all or a portion)
1 CHOCALATE (all or a portion)
1 CUTLETS (all or a portion)
1 IRISH STEW (all or a portion)
1 MEDICAL (all or a portion)
1 MUTTON or HARICOT MUTTON (all or a portion)
1 PATES (all or a portion)
1 PROVISIONS (all or a portion)
1 RATIONS (all or a portion)
1 SOAP (all or a portion)
1 SYRUP (all or a portion)
1 VEAL (all or a portion)

---