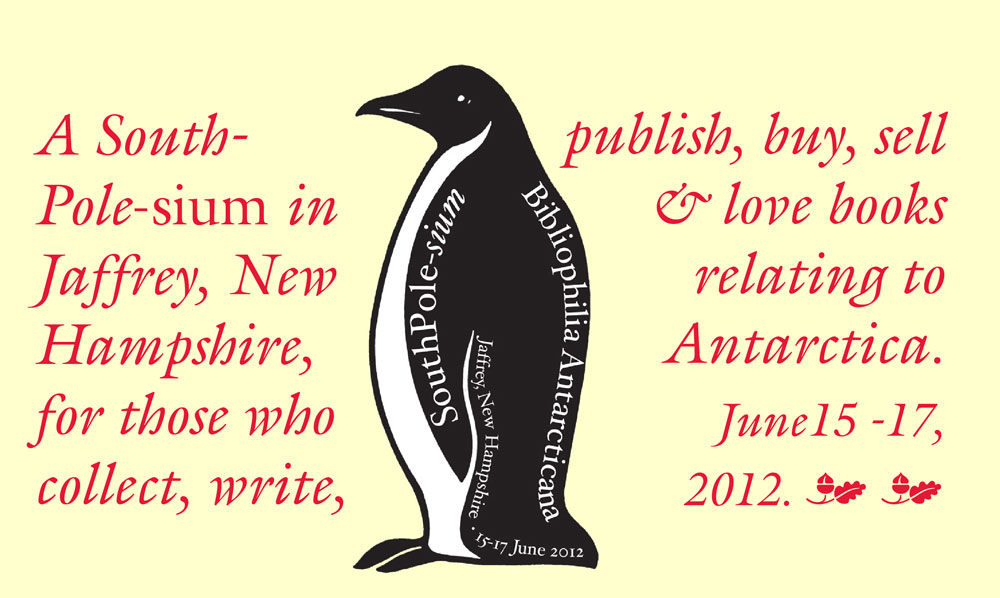 ---
Some Photos of the Gathering
Taken by Sally Larsen, Paul Davies, Richard Gutman, Jeff Clark, Damien Gildea and Rob Stephenson.



1. The Antarctic Circle banner.
2. Group photo in front of the Civic Center, by Sally Larsen.
3. Getting set up for the group photo.
4. A Field of Penguins. Each attendee had their own personalized penguin.
5. Tom Henderson shot video throughout the weekend. It should be available this fall.
6. The Friday night reception at the Civic Center.
7. "Fred Marple" at the opening on Friday, introduced by Bill Raymond.
8, 9. Richard Pierce reads from his new book Dead Men.
10. Lawrence Howard tells a story.
11. Tent and Steel Band and markes indicating the corner points of the Historic Huts.
12. The Tropical Sensations steel band at the Saturday reception.
13. The Tropical Sensations steel band at the Saturday reception.
14, 15. Dapper Joe O'Farrell.
16. Joe O'Farrell in the TAC library.
17. Joe O'Farrell, Steve Hicks.
18, 19. Jim McAdam.
20. Geraldine McAdam.
21. Seamus Taafe, Geraldine McAdam, Joe O'Farrell.
22. Paul Davies. 23. Paul Davies adds his name on the TAC wall.
24. Regina Daly & Paul Davies.
25. John Durant.
26. Damien Gildea.
27. Dan Allen.
28. Jason Anthony, Rich Joss & Tracy Sheehy.
29. Tracy Sheehy.
30. Joan Boothe.
31. Cathy Lilburne.
32. David Lilburne.
33. Jim McCarthy.
34. Jim McCarthy & Neelon Crawford.
35. Neelon Crawford & Stephen Hicks.
36. John & Sue Bonham.
37. Marilyn Churchill & Jay Platt.
38. Marilyn Churchill.
39. Richard Gutman.
40. Richard Gutman & Kathryn Manning.
41. Hilary Shibata.
42. Hilary Shibata, Isobel Williams, Greg Glade.
43. Isobel & David Williams.
44. Isobel Williams, Herb Gramm, John Field.
45, 46. David Hirzel.
47. Scott Howard.
48. Marty Greene.
49. Bob & Beckie Pope.
50. Bob & Beckie Pope flanking Karen Ronne Tupek.
51. Rob Stephenson.
52. Charlie Shackleton hands over the South Polar Times box.
53. Charlie Shackleton and Rob with the SPT box.
54. Rob Stephenson in front of the display cases.
55. Michael Rosove.
56. Steve Ross & David Williams.
57. David Stam.
58. David & Deirdre Stam.
59. Karen Ronne Tupek & Joanne Buck.
60. David Lilburne, Greg Glade, Seamus Taaffe.
61. Paul Davies' table in the booksellers' room.
62. Local Hosts Caroline & Clay Hollister.
63. Local Host Runi Estes.
64. Our tent and The Antarctic Circle banner.
65 Lunchtime.
66. Lunch group.
67. Lunch group.
68. Lunch group.
69. Lunch group.
70. Lunch group.
71. Lunch group.
72. Saturday dinner at the United Church; The Hollisters & Richard Pierce.
73. Saturday dinner at the United Church.
74. Sessions.
75. Sessions.
76. Sessions.
77. Nearly finished on Sunday.
78. Cookout at Rob's house on Sunday.
79. Joe & Seamus with Local Hosts Sally & Bruce Larsen.
80. The welcoming Emperor at the Library.
81. At the TAC Library on Monday. L to R: Seamus Taaffe, Rick Dehmel, David Hirzel, Hilary Shibata, Joe O'Farrell, Deirdre Stam, Rob Stephenson, David Stam, Marty Greene.
82. Appropriate beverage.
83. One of our custom made wine label.
84. Appropriate toilet roll.
---