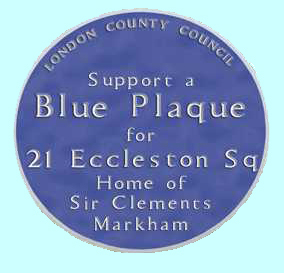 ---
UPDATE ON THE EFFORT as of 2 August 2010

Letters or e-mails of support have been received from the following organizations and individuals:
The American Polar Society (Jeff Rubin, Vice President)
British Antarctic Monument Trust (Roderick Rhys-Jones, Chairman)
Angie Butler (author)
The Antarctican Society (Charles H. Lagerbom, President)
C.R.C. Bowen (Antarctic traveller, distant relative of Markham)
Regina W. Daly (Antarctic author)
Devon and Cornwall Polar Society (Paul Davies, Honorary Secretary)
Art Ford, PhD, FRGS (Geologist, U.S. Geologicial Survey, retired)
Friends of the Scott Polar Research Institute (Robin Back FRSA, Chairman)
Gilbert White's House and The Oates Museum, Selborne, Hampshire (Dr R. S. H. Irwin, Chairman)
Robin Hanbury-Tenison (Explorer and writer)
Dr John Hemming CMG (Former Director and Secretary, Royal Geographical Society)
Kari Herbert (Writer, photographer, daughter of Sir Wally Herbert, polar explorer)
Stephen Hicks (Gateway Antarctica, University of Canterbury)
Meredith Hooper (Writer, UK Trustee, International Polar Foundation)
Professor Stephen D. Hopper FLS (Director, Royal Botanic Gardens, Kew)
Dr Huw Lewis-Jones (Polar historian, writer)
Dr. Cornelia Lüdecke (Chair, SCAR History AG)
Freddy Markham FRGS (Relative of Markham)
Prof Jim McAdam (Editor, Falkland Islands Journal)
Barry Moss (Chairman, British Chapter, The Explorers Club)
Shane Murphy (polar researcher, author and traveller)
Peruvian Embassy (Ricardo V. Luna, Ambassador)
Royal Geographical Society (Michael Palin, President)
Royal Geographical Society of South Australia, Inc. (Rod Shearing, President)
Dr Ann Savours Shirley (Polar researcher and writer)
Scientific Exploration Society (Colonel John Blashford-Snell, Chairman)
Scott Polar Research Institute (from the Librarian and Keeper of Collections)
The Earl of Selborne KBE FRS (Past President, Royal Geographical Society)
Tony Soper (Antarctic traveller and guide)
John Splettstoesser (distinguished polar scientist, past president, American Polar Society and The Antarctican Society)
David H. Stam (Senior Scholar, Syracuse University)
John Stansfield (Antarctic enthusiast)
Glenn M. Stein FRGS (Polar historian and author)
Barbara Tomlinson (Curator, Antiquities, National Maritime Museum)
Michael Warr (author and ex-BAS)
Sara Wheeler (writer)
Isobel Williams (polar researcher and author)
Dr D. M. Wilson (polar author and traveller; grand nephew of Dr E. A. Wilson)
Letters of support must be received by English Heritage by 16 August 2010. There's still time to send such letters to me at rs41@me.com. In order to be included in the submission I should have any such letters in hand by 9 August.
---