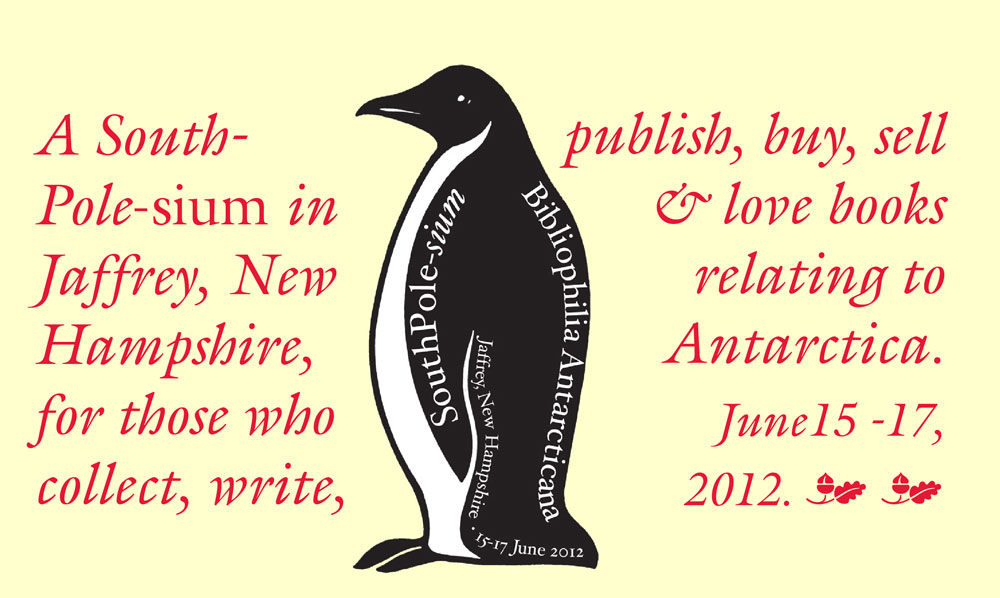 ---
Home
Blog
Schedule/Agenda and SouthPole-sium Odds & Ends.
Registration information and Form
Those who have registered
Those who are planning to attend
Those who have expressed interest in attending
Subjects of talks proposed to be presented so far
Subject ideas for talks that might be presented
Jaffrey Civic Center, our main venue
Accommodation options
Links relative to Jaffrey and the region
Download a flyer
Updates & E-mails
Comments during preliminary planning from those who might attend

---
BLOG
Here you'll find the latest information on the SouthPole-sium and comments and questions from those planning to attend or interested in doing so.
---
3 July 2012.
The votes are in. The winner of the Antarctic Limerick Contest: Stephen Hicks
his entry was #1 below:

T'was a sad day for the Empire
For glory vainly sought
When Hillary did to Fuchs
What Amundsen did to Scott.

The winner of the Antarctic Haiku Contest: Richard Joss
his entry was #6 below:

scott amundsen shack
miles and miles and miles and miles
pole in the distance

Suitable prizes will be awarded. You may remember that the corner points of some of the Historic Huts were marked on the lawn in front of the Civic Center. We were going to take photos of each with the number of occupants standing within each hut footprint. But we ran out of time. But I did corral some willing Jaffrey residents a couple of days later and accomplished the deed (with the exception of the Discovery hut—not enough people). You can see the results at http://www.antarctic-circle.org/huts.htm
24 June 2012.
This e-mail was sent out to all the attendees on 24 June: Dear SouthPole-sium attendee, A week has passed since the SouthPole-sium. I've pretty much recovered and I hope you have, too. Weren't we fortunate with the weather? A day or so before we set up, it was pouring rain. Not long after, the sultry temperatures were close to 100 degrees! For those who have written and e-mailed with positive and complimentary words, many thanks. See http://www.antarctic-circle.org/gathering-blog.htm for some excerpts. [SEE BELOW] For those who have said "You must do this again next year!" Well, not next year but who knows what 2014 will bring. (If another one were to be held here, an option that would make things easier logistically—but likely more expensive—would be to hold it at either Franklin Pierce University in the next town, Rindge, or at Keene State College in Keene, and leave all the accommodation, dining and meeting room issues to the institution. I've added some photos of the weekend at http://www.antarctic-circle.org/gathering-photos.htm
These were taken by Sally Larsen, Jeff Clark, Paul Davies, Richard Gutman, Damien Gildea and myself.
If there are any you'd like at a higher resolution, let me know and I'll provide them. This link is also on the SouthPole-sium website at http://www.antarctic-circle.org/gathering.htm
Here you will also find some summary informaton including a financial report. There was actually a surplus of $36.23! Some wondered how we could do everything that we did for $95. Well, we had a lot of energetic volunteers to help us out. In planning the gathering I embraced several principles:
- Have it informal
- Have lots of discussion
- Keep talks to 15 minutes if at all possible
- No honoraria: All pay the same
- Plentiful food and drink
- Lots of information including a detailed attendance list
- Involve the local community Do you think these all worked? Any suggestions on how things might have been improved? In looking back over the weekend, I learned that I should have created a committee to take on some of the planning. (If this happens again on my watch, I'll definitely delegate more.) A minor point: we threw out sandwiches both days. I lowered the order for Sunday based on Saturday's experience, but the numbers should have still been lower. Before things began, I didn't think a sound system would be necessary, but it became quickly clear that one was called for. The portable one at the Civic Center actually did a pretty good job, but if there ever is a next time, a better system is called for. The concluding session—on what to do with collections—was moderated by David Stam. I thought this worked very well and having attendees moderate subject sessions should be incorporated in any future gatherings. One thing that we never got to—my mistake—was judging the Haiku and Limerick contests. So below you will see the entries.
Choose your favorite in each category and e-mail them to me, if at all possible by 1 July. LIMERICKS (not all appear actually to be limericks) #1:
T'was a sad day for the Empire
For glory vainly sought
When Hillary did to Fuchs
What Amundsen did to Scott. #2
There once was a walrus from Nunatiq
Who listened to stories by whales
He swam far and wide
Missing the tide
And even his mother said
He was a lunatic. #3
There once was a penguin named Nero
Who fancied himself everyone's hero.
He came back from a trip
Tipsy and out-of-it
As he had absolutely no fear-o. #4
Imagine the consternation so profound
If Oates' body should be found
Hanging there, exposed on the Barrier wall
Should we chip him out?
Give him a proper burial?
Or let the elements ferry all.
HAIKU (not all appear actually to be haiku) #1
Imagine when all thescare of the Heroid Age
Appear on calving icebergs.
Faces as real as the day they died,
Cairs, horses, dog skeletons
Lost tools and skis.
Remnants so sorrowful  #2
white white white white white
white white white blue white white white
white white white white white  #3
frozen wind blows on
ignoring all pleas to cease
but you choose to stay #4
mesmerizing white
generations wander in
seeking something true #5
Polar Colloquy
To SouthPole-sium—thoughts and
People fly between #6
scott amundsen shack
miles and miles and miles and miles
pole in the distance #7
hold hold hold weather
hold hold hold mechanical
hold hold hold wheels up
Here's a thought about a future gathering. Sally and Bruce Larsen and I were talking about this on Monday night. What about doing a Landmark Trust house and fill it with Antarcticans? This would be completely different from the SouthPole-sium in many respects but it might be a lot of fun, too. The property that would be best suited to this is Gargunnock House outside Stirling, Scotland. This is a perfect locaton equally distant by train from Edinburgh and Glasgow. It accommodates 16 (though more could participate but stay elsewhere). One can rent Landmarks for a long weekend or a full week (or longer). The cost for a week is in the area of perhaps $400 each. See the Landmark Trust website at http://www.landmarktrust.org.uk/
I've arranged ten or so houseparties at various trust properties (twice at Gargunnock) and am a great fan of this organization.
The concept might be this: Tour around during the day or not; congregate for drinks; cook up dinner and then spend the evening in Antarctic discussion. An advantage of such a gathering is that not much would have to be done ahead of time. All would participate in cooking and about all that would be needed is some moderating of discussion. See http://home.comcast.net/~rs41/siafuphotos.htm for some photos and commentary on my last stay at Gargunnock in 2007. So let me know if this holds appeal for you. In the past I've booked trust properties usually a year ahead of time. Also, back to the issue of holding another SouthPole-sium similar to the one in Jaffrey. Would any of you who attended in Jaffrey, want to take on the job of arranging a similar one elsewhere in the US or Canada? If so, let me know.
BOOKS WITHOUT A HOME Jay Platt of West Side Book Shop sold 6 books to a lady at the SouthPole-sium. The bill ($75 or so) was paid but the books never were picked up and he doesn't know her name. I have them here in Jaffrey, so if they're your books, let me know and I'll send them on. That's it for now. Regards, Rob

I've received several e-mails saying what a great time was had at the SouthPole-sium. Here are some excerpts:

Congratulations again for a terrific symposium. Still processing all the info and ideas generated by last week's get-together…such a wonderful and diverse crowd. Just a quick note to thank you for a wonderful weekend. The Irish contingent had a really great time. Just wanted to drop a note and say thanks for organizing such a splendid event this last weekend. We enjoyed meeting all of the interesting attendees and listening to the many informative presentations. Great fun it was. And thanks for setting up the Local Host program; it contributed heaps to the overall enjoyment of the weekend. Congratulations on a phenomenal job of organizing and running the SouthPole-sium. You must need a week of sleep to recover! I had a great time, and made a bunch of valuable new contacts. Thanks again! I heard from Tom Henderson that your gathering was excellent! Congratulations! I am sorry to have missed it, but am looking forward to a posted report about it on your website. It was wonderful! Thank you so much for all the efforts you made to make the SouthPole-sium such a huge success. Please also pass on my thanks to the folk of Jaffrey for their warm hospitality. Here's to the next time! I bet by now you are overwhelmed with a barrage of thank-you notes from many of us who were there. I'll try to limit my effusions here, but it will be hard to do. I don't recall every having made so many friends in such a short time, all of us with that peculiar polar passion that most of the rest of the world doesn't quite get. Were I to list them all, it would be practically everyone who was in attendance.
There are so many things I want to learn about all this Antarctic (history, geology, transportation, art, social mores, domestic life, etc., etc.) that can only be got through the art of conversation, and everyone was willing to share. I could have spent a week at it, and come away still hungry for more. I do believe that I'll be seeing some of those folks again sometime, and am certain that whatever questions I may have that I can ask through email, I've got a host of friends to ask. I was glad to be able to add my own bit of Tom Crean lore that no one else might have known.
I think you already know what a magical community you brought together for a few days, and trust you know that we all of us greatly appreciate your efforts, hospitality, and friendship. Thank you again for a wonderful conference…obviously, a labour of love. You pulled it off with military precision and the weather was an added bonus. I met so many talented and accomplished people. To paraphrase JFK, there hasn't been such an accumulation of Antarctic brain power since Robert Falcon Scott dined alone. Thank you so much for organizing such a wonderful weekend, what an effort, you must be exhausted! We really enjoyed the speakers, meeting up with old friends and making new ones. Also thank you for arranging a home stay for us with Anne and Jim Banghart, they couldn't have been more hospitable either. All that attention to detail, the wonderful food, the penguins, the venues and so much else. Thanks too to all the helpers, cooks, sandwich, nibbles and cookie makers, steel band and actors and the others behind the scenes. Just brilliant. Congratulations again on your superb performance in organizing and managing last weekend's symposium. It was a unique and memorable experience for me; I'd not attended such a meeting on polar affairs. I just wanted to thank you for putting together a marvelous conference and for taking such good care of us. It really could not have been nicer. I learned so much and met so many cool and interesting people—yourself included. You have my gratitude and my sincere admiration. Wow a memorable weekend! Thanks, Rob, for including us. All-in-all, terrific company. It really seems like the SouthPole-sium was a great success. I am sorry that I was only there for such a narrow slice of time, but I think I got a feel for it and I really enjoyed myself and met a lot of very nice people who all reported as to having a very good time. I liked the three presentations that I saw on Sunday morning. And I greatly enjoyed the chicken dinner the night before.
Well done. That was a big event to organize. Roll on the next one! It's important that I drop you this brief note to say Thanks, and Well Done. I don't know about you, and whether or not you were able to go about your normal duties this morning, but I can assure you that, following the excitement and pleasures of the past few days, the last thing I was able to face this morning, on my return to Ireland, was the insurance world!!! You really gave us all a rather special few days. Many, many thanks. Just a quick note to say thank you for an extremely interesting and well-run SouthPole-sium. So many books talked about, so many stories told—congratulations! The SouthPole-sium was a really great event. I was very impressed not just with the level of detail and the quality of the program, but also with your determination to keep it simple, congenial, and low-key. Thank you so much for putting it together. I hope, as so many others mentioned, that you'll be doing it again in a year or two.
Thanks also for allowing me to slip in at the last minute. I really enjoyed talking with the fascinating mix of attendees. Jaffrey felt like a perfect place for the event. You made it feel like the town was welcoming us all. Well done, sir. I was amazed at the detail of your weekend. Nothing was left to chance that I could see and I suspect all those who attended were most appreciative of all your efforts and very glad they came.
So congratulations on a tour de force and thank you for letting us all be a small piece of it. Congratulations, Robert, and to your local committee for an outstandingly well-organized and a content-rich first-ever SouthPole-sium, and for getting me set up with such a wonderful host family. What a fantastic SouthPole-sium you put on. I was anticipating a wonderful time, but it was even better than I thought it could be. You did a terrific job of organizing, collecting people, keeping us busy and engaged… As one of the first things I did (after trying to attack the massive accumulated backlog of emails for my day job) was to thank you for organising the SouthPole-sium, and for being such a wonderful host. I had a brilliant time, and met so many lovely people, and it's all down to you.
I hope it doesn't take you too long to recover from the stresses of organising and running the event, and certainly hope I won't have to wait until you're in the old people's home to meet you again. Let me congratulate you on the superb planning and organisation of this event. The social aspects were very successful (obviously I can't evaluate the scientific part but Isobel was very enthousiastic). It was generous of you to include the hosts at the receptions and dinners—it was about the only time we could have a longer conversation with the Williams. What a wonderful Saturday we had joining your fabulous event! Thank you for including us. We had great fun. A wonderful gathering thee made possible! I know you were given accolades and words of gratitude from the SouthPole-siumers but I wanted to again tell you how terrific your whole weekend was for each of those who were there. I had the feeling that the historic "explorers extraordinaire", regardless of their trials and tribulations, would have wanted you to be a key planner and participant for their incredible journeys. Had you been with them, certainly all would have accomplished adventurous, successful feats and discoveries. Just wanted to say thanks very much for the gathering. I thought it was a great event and we all appreciate the amount of work you put into it. Again, many thanks for what must have been your untold hours of thought and organization to pull off this past weekend. It was so successful that I really believe you should be spending all of your time organizing such meetings, and that there should be additional ones like this, say, every three months. Again, I can't congratulate you enough on a fine SouthPole-sium. I just want to tell you how much I enjoyed the day Saturday at your Jaffrey event, the talks, the people, the gatherings, all. It was really wonderful. I've been decompressing, in a good way, from the tremendous weekend you offered. How can I thank you enough! The warm glow, or should I say cold(!), has lasted quite a while and I keep recalling some of the myriad of details which you had covered. I think everyone had superb time! I would love to see this happen again, somewhere, sometime. Thank you. Not sure how you managed the weather as well as everything else, but yes, it was ideal. Let's have the same next year… Comments/answers as requested are as follows:
I liked the symposium where and how it was, but I'm open to the Franklin Pierce/Keene option.
All your organizational principles were excellent. I would have liked to have some real breakfast options - something substantial—since I was staying in the campground.
A good sound system is essential, and I might recommend a dedicated tech for the A/V operation. There was a diversity of abilities and laptops during the sessions.
Re: the Landmark Trust idea, it sounds lovely, but just getting to the UK is beyond my budget these days. I do like the idea of a group rental in NH for the next symposium. A belated but sincere Grazie Mille for the absolutely superb weekend you put together for all of us in Jaffrey! It was absolutely marvelous the way the Symposium facilitated the cross-pollination of writers, artists, mountaineers, collectors, dealers and interested parties. We had so much fun, talking Antarctic all weekend. We also connected with the writers, it made me realize how we could be a resource for them… We had Edgar Evans' new testament from the Terra Nova trip (useful for Isobel) and Archie Mclean's sister's autograph album, which David Roberts enjoyed looking at, but his book had already gone to press.
The National Trust homes idea sounds wonderful, if that comes off sometime. I'm afraid we are not putting our hands up to run something like the Symposium—you have set the bar very high indeed! The whole experience of the South Pole-sium was exhilarating—certainly a highlight of this year in my life. You're a planner and you got everything right. And it all looked casual, even easy, but I've organized conferences and I know that putting on this show was a lot of work. Thank you for doing it.
The conference agenda exceeded my expectations. Limiting speakers to several minutes to a half hour was a brilliant idea. A lot of people got to impart new and fascinating information.
Of course I want you to do another SP-sium. Franklin Pierce would be a venue I'd love to visit, although staying with the local hosts was a highlight and meeting other hosts was fun.
Going to Scotland for an event similar to but different from the Jaffrey event thrills me. Count me in!
You've submitted a check list of the principles you embraced. Everything worked very well. All that is needed is a new focus. You can't do the same thing again. Talks by the booksellers and collectors worked well this time but I doubt that a repeat would go over as well. Otherwise, there is nothing to be improved. And at the moment I don't have an idea for a new focus. But next time, do create a committee to take on some of the responsibilities For example, with a list of hosts, I could match up people with an appropriate host. It was indeed a superb and memorable weekend. What you accomplished is not lost on me, or anyone, I presume. I am delighted that I could be there for the festivities, talks, people, your library; and, as you say, the weather was stupendous. Once again thanks for this wonderful event. I realize many would like more. Have read some of the suggestions and will give thought for the future.
I also want to thank the folks from Jaffrey who so generously helped with the multiple hospitality events, food, and so forth. And of course must mention Bill and his down-home hospitality we so enjoyed. But would never stop until I thank you for having the vision and stamina to make this all happen. We learned a lot, and were impressed by your planning, energy, and generosity. Much will be helpful in my course, but particularly the Time Line. We came away with new friends, productive discussions, new knowledge about Antarctica history, future projects to research and to top it off with good food, drinks, entertainment and some good books to read! It was a five star performance. Can't wait for SouthPole-sium II. Once again, congratulations on a splendid symposium. The fact that you basically broke even on expenses is a reflection of the care you took in organizing the symposium. Good on 'ya!
You are spot-on about a planning committee. I once organized a national conference with 400+ registrants and it would have been a disaster without a very active committee and lots of delegation. Yours was large enough that a committee would have made your life much easier. The key is to find good people who are motivated to do a good job and can be trusted to keep to a schedule.
From a filming point of view, I heartily concur with moving to a venue with more amenities. A dedicated conference room with AC and more options for lighting would be ideal. The upgraded sound system would also be a plus, particularly if it has a feed available for running the sound directly into a camera for recording.
The idea about a Stirling meeting is a good one. I attended a Scottish Pipe Bands international meeting there around seven years ago. It is such a beautiful area. We stayed in dorm housing on the Stirling University campus. It was basic but certainly served the purpose and was inexpensive. That might be a thought for overflow housing.
20 June 2012. Here are some statistics:
In the end there was a total of 56 attendees (three had to cancel at the last minute because of health issues). I did a budget a year ago and tweaked it right up to the end and, surprisingly, it was pretty accurate. We had a surplus of $36.23! Here are the details:

REVENUE
Registration $4,960.00
Local Hosts $1,045.00
TOTAL $6,005.00 COSTS
Venues $625.00
Tent & chairs $298.00
Two lunches $585.39
Coffee $217.91
Sat Dinner $1,319.98
"Fred Marple" $250.00
Steel Band $400.00
Project Shakespeare $250.00
Staff $260.00
Printing/copying $260.05
Postage $67.46
Hors d'oeuvres $393.82
Other food $174.51
Condiments $24.49
Ice $58.52
Beverages $602.82
Supplies $180.82
TOTAL $5,968.77 SURPLUS/DEFICIT $36.23
14 June 2012.
Sadly, three cancellations today: Joe and Beth Fitzsimmons and Robbie Dodson, all because of health issues. Get well soon! But we also have one addition: Jason Anthony, the author of the upcoming Hoosh: Roast Penguin, Scurvy Day, and Other Stories of Antarctic Cuisine. Things get hopping in just over 24 hours!
11 June 2012.
The following e-mail went out to all Registrants today:

The opening of the SouthPole-sium is less than a week away! Everything seems to be under control. But I need some further information from you. 1. There will be a party/dinner on Thursday night from 6pm onward at Bruce and Sally Larsen's house. All early arrivals and their Local Hosts, if they are staying in private homes, are invited. But I need to know who is likely to come so that I can invite the Local Hosts in question. According to my information the following with be arriving on Thursday (those shown are registrants and others who have said they will attend):

Claire Bean
Neelon Crawford
Regina Daly
Linda & Zaven Giragosian
Herb & Colette Gramm
Richard Gutman
Tom Henderson
Stephen Hicks
Bruce & Sally Larsen (of course)
Kathryn Manning
Jim & Geraldine McAdam
Duffy Monahon
Duffy daughter and granddaughter
Joe O'Farrell
Margaret & Gene Pokorny
Steve Ross
Marjory Spoerri
Rob Stephenson
Seamus Taaffe
Louise & Bernie Watson
David & Isobel Williams
Now numbering: 29

Is this list accurate? I'll assume that everyone listed will attend this Thursday dinner. If you won't be attending, please let me know. Are there any others arriving on Thursday who will coming to the party? If so, please let me know. Here are location and contact details: [This has been left out of the webversion for privacy reasons]
2. There will be a party/dinner on Sunday night from 6pm onward at my house (or perhaps another location in case of rain). All those who are still in Jaffrey on Sunday and their Local Hosts, if they are staying in private homes, are invited. But I need to know who is likely to come so that I can invite the Local Hosts in question. According to my information the following with be attending the dinner.

Dan Allen & Nat Davis
Claire Bean
John & Sue Bonham
Neelon Crawford
Regina Daly
Paul Davies
Rick Dehmel
Damien Gildea (maybe)
Linda & Zaven Giragosian
Greg Glade
Marty Greene
Richard Gutman
Tom Henderson
Stephen Hicks
David Hirzel
Kathryn Manning
Jim & Geraldine McAdam
Joe O'Farrell
Margaret & Gene Pokonry
Robert & Beckie Pope
Steve Ross
Marjory Spoerri
Hilary Shibata
Seamus Taaffe
Now numbering: 30

Is this list accurate? I'll assume that everyone listed will attend this Sunday dinner. If you won't be attending, please let me know. Are there any others who will still be around at the end of Sunday? If so, please let me know. Here are location and contact details: [This has been left out of the webversion for privacy reasons]
3. There will be a dinner on Saturday night at 7pm. All attendees are invited and the cost is included in the registration. I'm assuming that all attendees will be going to the dinner. If you will not be attending, please let me know on or before Monday 11 June as I need to give the caterer a final count on that day.

John Durant (not attending)
Now numbering: 83

4. There will be an excursion to the Fitchburg Art Museum to view the Antarctic art of David Abbey Paige, the artist on the second Byrd expedition. The Museum will be holding a reception for us and there will be a gallery tour and discussion. Along with the art, there are several artifacts lent by the Byrd family and by The Ohio State University. According to my information the following will be going to the Fitchburg Art Museum:

Dan Allen & Nat Davis
John & Sue Bonham
Joan Boothe (unless tight on flight departure)
Neelon Crawford
Regina Daly
Paul Davies
Damien Gildea
Greg Glade
Marty Greene
Richard Gutman
Tom Henderson
Stephen Hicks
David Hirzel
Rich Joss
Valmar Kurol
Richard Pierce (if can get a ride to Logan)
Robert & Beckie Pope
Steve Ross
Tracy Sheeley
Hilary Shibata
Marj Spoerri
David & Deirdre Stam
Now numbering: 26

Are there any others who would like to attend this event? If so, please let me know so I can inform the Museum.
The SouthPole-sium website (http://www.antarctic-circle.org/gathering.htm) has extensive information on the gathering. You might want to check it next week, particularly the Blog as it will be there that I include changing information.
If you have any questions or concerns or difficulties, let me know.
I will have my cell phone on beginning next week: 603-562-0521


11 June 2012.
I recently set up an exhibit at the Jaffrey Library (next door to our SouthPole-sium venue) on Penguins. Be sure to drop by and see it Saturday between 10 and 2. Here's a photo:






The exhibit of Antarctic books, art and artifacts is now open at the Civic Center. Click here
for some photos and a catalogue.
19 May 2012.
So far here are those who have indicated that they will be in Jaffrey on Thursday evening 14 June and attending an informal party (more details later). (This list will be updated when needed.)

Dan Allen & Nat Davis
Neelon Crawford
Richard Gutman
Tom Henderson
Stephen Hicks
Jim & Geraldine McAdam
Joe O'Farrell
Steve Ross
Marjory Spoerri
Rob Stephenson
Seamus Taaffe If you're not on this list, let me know and I'll add you. If you're on the list and can't/won't be attending, also let me know.
19 May 2012.
So far here are those who have indicated that they will be in Jaffrey on Sunday evening 17 June and attending an informal party (more details later). (This list will be updated when needed.)

Dan Allen & Nat Davis
John & Sue Bonham
Neelon Crawford
Regina Daly
Paul Davies
Marty Greene
Richard Gutman
Tom Henderson
Stephen Hicks
David Hirzel
Joe O'Farrell
Robert and Beckie Pope
Steve Ross
Marjory Spoerri
Hillart Shibata
Rob Stephenson
Seamus Taaffe If you're not on this list, let me know and I'll add you. If you're on the list and can't/won't be attending, also let me know.
19 May 2012.
So far here are those who have indicated that they will be going to see the Paige art show at the Fitchburg Art Museum on Sunday after 17 June. Presumably most of those immediately above will be attending as well. (This list will be updated when needed.)

Neelon Crawford
Regina Daly
Paul Davies
Stephen Hicks
David Hirzel
Rich Joss
Valmar Kurol
Robert and Beckie Pope
Steve Ross
Tracy Sheeley
Hilary Shibata
Marjory Spoerri
Rob Stephenson If you're not on this list, let me know and I'll add you. If you're on the list and can't/won't be attending, also let me know.
19 May 2012.
Joan Boothe is arriving at Logan from San Francisco 5:20am Friday. She flies out on Sunday at 7:15pm so might be able to give Richard Pierce (see below, 8 May) a ride to Logan.
15 May 2012.
The following e-mail went out to all Registrants today:

Dear SouthPole-sium Registrant, This time next month over 50 Antarcticans will be gathering in Jaffrey, New Hampshire! I'm confident we'll have a great and productive time together. I am still working on matching up a few of you with Local Hosts. I hope to have everyone matched and notified in another week. I'm attaching a pdf of the attendance list with addresses and other pertinent details. Some of you did not submit a write-up about yourself and your Antarctic interests. There's still time to do so, if you wish. A hard copy of the list will be distributed to all the registrants in Jaffrey. Photos of some of the Registrants are at http://www.antarctic-circle.org/SoPoleRegistrants.htm You will have noted that this isn't being organized as the usual type of conference. In large part it will be an extended "bull session." Those who crave structure and precision may get a bit antsy. Have a look at the "Subjects" section of the website (http://www.antarctic-circle.org/gathering-subject.htm) to see what some of you have volunteered to talk about. If you don't see a confirmed logo next to your proposed talk, let me know if the title/description is still accurate and give an estimate as to how much time you'll need. (Try to keep it no longer than 15 minutes.) The talks will be Saturday afternoon and Sunday. Saturday morning will mostly be devoted to going around the room and everyone talking about their Antarctic interests, asking questions, etc. The dinner Saturday night will be at the United Church of Jaffrey. As we are being charged by the number dining, please let me know if you are NOT intending to be at the dinner. As described on the SouthPole-sium home page (http://www.antarctic-circle.org/gathering.htm), we have been invited to view the David Abbey Paige (Byrd II) show at the Fitchburg Art Museum (25 miles away). This be at 3:30-3:45 Sunday afternoon. It's a small but interesting show and also includes some Byrd artifacts. The Museum will do a reception of some sort for us so it would be useful to give them a number. If you are intending on going, please e-mail me to that effect. (If I don't hear from you I'll assume you won't be going.) If you want to bring any books or other Antarctic related items to sell, please do so. We will have a room that can be locked and which has tables for display. We will have volunteers that can keep an eye on things and oversee sales. Please consider bringing an item or two for "Show and Tell." Also your favorite Antarctic slide or digital photo or two. (If the latter, you can e-mail them to me ahead-of-time and I'll have them in the computer all set to go.) I'm mightily disappointed that no one has as yet submitted an Antarctic Haiku, Limerick or 600-word (up to, not to exceed) piece of fiction (see the homepage). The big prizes will go wanting. The deadline is Saturday the 16th of June at noon. I will send out an e-mail around the 10th of June with an update.
8 May 2012.
Richard Pierce is coming to the SouthPole-sium from the UK. His flight back is out of Logan on Sunday the 17th at 6:40pm. He will not have a car. If anyone is headed in that direction in the, say, late morning or early afternoon on Sunday, perhaps you could offer him a ride. His e-mail is rps@rdsl.com.
8 May 2012.
I've had a few requests about accommodation in Boston, where to dine and about what attractions to take in. So here are some ideas:

The Midtown Hotel might be a good choice for accommodaton. http://www.midtownhotel.com/ My brother and sister-in-law stayed there a year or so ago and thought it worked fine. It's more like a motel than a hotel but it's in the middle of the city and is well served by the subway and has a lot of restaurants, etc., nearby. I don't know for sure, but it's probably about the most affordable choice in central Boston. You might get a better deal or some special on the Internet. For bookpeople a visit to the Boston Athenaeum (http://www.bostonathenaeum.org/) would be a pleasure. It's a lovely facility at 10-1/2 Beacon Street. (The 10-1/2 is curious because the building is immense.) They have a gallery with some show on at any one time. It's London counterpart is the London Library. Although it's a membership library one can enter as a visitor. You could take the Red Line to Harvard Square and walk around the campus a bit and perhaps drop into Houghton Library, the rare book library (http://hcl.harvard.edu/libraries/houghton/). There's always an exhibit of some sort. Unless you know Boston, I would suggest taking a tour. The Duck Tours are popular (http://www.bostonducktours.com/tickets_main.aspx) The Freedom Trail is worth the walk, at least some of it; it ties together all the major historical sights (http://www.boston-discovery-guide.com/freedom-trail.html#axzz1uIpIhf1H). If you have time for a least one museum, I'd make it the Isabella Stewart Gardner Museum just because it's so unusual (http://www.gardnermuseum.org/). Right across the way is the much larger Museum of Fine Arts (http://www.mfa.org/) Both are easy to get to on the Green Line. For dining, a very old Boston tradition is Durgin Park which is in Quincy Markets behind City Hall (http://www.arkrestaurants.com/durgin_park.html) (http://en.wikipedia.org/wiki/Durgin-Park). There's really nothing like it. Not particularly expensive. The Union Oyster House (http://www.unionoysterhouse.com/) not far away is a good choice, too. It's America's oldest restaurant. The North End is famous for Italian restaurants. Very expensive but very Bostonian is Locke-Ober (www.lockeober.com/). One of my favorites on Beacon Hill is Lala Rokh (http://www.lalarokh.com/), Persian food, not too expensive, very relaxing atmosphere. In driving to Jaffrey, I would get onto Rt 2 at some point outside Boston and take this to the Concord rotary (beside which is a state prison) and go off the rotary (roundabout) to the right onto Rt 2a/Rt 119. (You could first go into Concord, which is very pretty, and go to the place where the famous Revolutionary battle occurred. It's well signed.)
On 2a/119 you'll go through Littleton then to Groton which is a lovely town. You'll then go through Townsend and 2 or 3 miles later, in West Townsend, take a right onto Rt 124. Stay on this through New Ipswich and eventually Jaffrey. Rt 124 is Main Street in Jaffrey. In all it's about a 70 mile drive, 1-3/4 hours or less.
7 May 2012.
A party was held on Sunday 6 May for the SouthPole-sium volunteers and Local Hosts. Check out our video on YouTube.
15 April 2012.
A new shuttle service was launched today. Thomas Transportation of Swanzey, NH, now has five shuttles a day to and from Boston's Logan Airport and four a day to and from Hartford's Bradley International Airport. The cost is $59 per person. The closest drop-off/pick-up to Jaffrey is Rindge, only six miles away. Times and full details are given at http://www.thomastransportation.com/go-green-economy-shuttle-service
For those not having a car but flying into Boston, this is the best option for getting closest to Jaffrey.
14 April 2012.
An update on Local Hosts: I'm still matching up those attendees who have expressed interest in staying with Local Hosts. So far, the Stams, Betty Carlisle, Margo Fernandez, Jim and Geraldine McAdam, Seamus Taaffe, David Roberts and Joe O'Farrell have been matched. The remainder should be arranged by the end of April or so.
7 April 2012.
Our roster of booksellers is growing. Registered so far are
Greg Glade, Top of the World Books, Hinesburg, Vermont
Paul Davies, Kingsbridge Books, Kingsbridge, South Devon, UK
John and Sue Bonham, London, UK
David and Cathy Lilburne, Antipodean Books, Garrison, New York
Jay Platt, West Side Bookshop, Ann Arbor, Michigan

Some other categories (to my knowledge): Collectors
Rob Stephenson, The Antarctic Circle, Jaffrey, New Hampshire
Michael Rosove, Santa Monica, California
Joan Boothe, San Francisco, California
Greg Glade, Hinesburg, Vermont
Seamus Taaffe, Athy, Ireland
David Stam, Syracuse, New York
Deirdre Stam, Syracuse, New York
Joe Fitzsimmons, Ann Arbor, Michigan
Jim McCarthy, Arlington, Massachusetts and Francestown, New Hampshire
Martin L. Greene, Seattle, Washington
Joe O'Farrell, Enniskerry, Ireland
Marjory Spoerri, Stanfordville, New York
Steve Ross, Toronto, Ontario
Rick Dehmel, San Francisco, California I've counted at least 7 owners of copies of the Aurora Australis among the registrants. This just could be the largest concentration of owners since the book was issued at Cape Royds! (It also represents 10% of the known copies.) Polar Authors
Michael Rosove, Santa Monica, California
Joan Boothe, San Francisco, California
David Hirzel, Pacifica, California
Isobel Williams, Essendon, Herts, UK
Regina Daly, Catskill, New York
Hilary Shibata, Saffron Walden, UK
Richard Pierce, London, UK
Damien Gildea, Goulburn, NSW, Australia
David Stam, Syracuse, New York
Deirdre Stam, Syracuse, New York
Paul Davies, Kingsbridge, South Devon, UK
David Roberts, Watertown, Massachusetts
Laura Waterman, East Corinth, Vermont
Bob Dodson, Wilder, Vermont
Antarcticans (In the sense of having been there. Sure to be some missing here,)
Rob Stephenson, The Antarctic Circle, Jaffrey, New Hampshire
Michael Rosove, Santa Monica, California
Karen Ronne Tupek, Bethesda, Maryland
David Stam, Syracuse, New York
Jim McCarthy, Arlington, Massachusetts and Francestown, New Hampshire
Martin L. Greene, Seattle, Washington
Joe O'Farrell, Enniskerry, Ireland
Joan Boothe, San Francisco, California
Isobel Williams, Essendon, Herts, UK
Tom Henderson, Slingerlands, New York
Regina Daly, Catskill, New York
David Roberts, Watertown, Massachusetts
Margo Fernandez, Brewerton, New York
Betty Carlisle, M.D., Brewerton, New York
Bob Dodson, Wilder, Vermont
Neelon Crawford, Fort Washakie, Wyoming If your name should appear in one or more of these categories, let me know.
29 March 2012.
Marj Spoerri is looking forward to finding "clues about the disposal of my collection and better ways of buying books and more clues to efficient online purchasing." She's also interested in tracking down the source that reported that "seal liver tasted like chocolate. I imagine this to be true as the texture of liver can resemble a grainy chocolate and the seal probably has the sweetness of seafood. But after 15 years and acquiring about 500 books, I have yet to find this again."
24 March 2012.
David Hirzel wonders whether any attendees might need a ride from Logan Airport to Jaffrey. He intends to drive via Mystic Seaport in Connecticut, not exactly on the way but worth seeing (along with Stonington, the center of Antarctic sealing back in the 1820s). He arrives on Friday 15 June at 7:48am. If you're interested, contact him at david_hirzel@sbcglobal.net Cathy and David Lilburne (Antipodean Books) "…have been book, map & print dealers for 36 years, and have had a specialty in the Antarctic since 1980. We are very much looking forward to matching up faces with our clients, sometimes known only by email. But for us, who view the Antarctic through it's paper historical legacy, we are looking forward to feeling other people's enthusiasms for the Antarctic." Richard Pierce will be launching his upcoming book—Dead Men—Friday evening at the SouthPole-sium and at The Toadstool Bookshop in nearby Peterborough, on Saturday. It's a "gripping historical novel…and a very modern love story" that's stems from the mystery surrounding why did Scott, Wilson and Bowers spend their last days 11 miles from salvation. (The heroine is named 'Birdie Bowers!')
14 March 2012.
Neelon Crawford, e-mails to say "I could speak about my 5 Antarctic trips, including two winters, with the NSF Artists and Writers Program." He will be bringing a portfolio of some of his Antarctic photographs. Marty Green offers to "talk on the books associated with Shackleton's four expeditions (as can many others, of course), or on my research that led to understanding of the first and second states of Aurora Australis. I also have a 5 minute vignette about how I researched a Shackleton ALS that led to discovery of a rather unknown article that he wrote for Youth's Companion newspaper in Boston in 1914."
10 March 2012.
Bob Dodson, distinguished Antarctic explorer, e-mails to say "I have a life-long interest in Antarctica, having first gone there on the Ronne Expedition 65 years ago as Assistant Geologist and Chief Dogteam Driver. Since then I have re-visited the Peninsula more than a dozen times as a lecturer on cruise ships.
As for "projects" I have a book in the works hopefully to be published within 2-3 years."
He goes on to offer to give an illustrated talk about the Ronne Expedition.
8 March 2012.
Valmar Kurol, Montreal Antarctic Society, says he's "interested in anything to do with Antarctica, but specializing in cultural matters—fiction, movies, music. (Valmar compiles/curates the Antarctica Experienced through Music, the Antarctic Movies and the Antarctic Fiction Bibliography sections of The Antarctic Circle website.)
3 March 2012.
Steve Ross will be bringing along some Oates' related material for display.
1 March 2012.
Deirdre and David Stam, sent this along:

Why you're attending.
We like anything about polar exploration from the detailed, physical to the metaphysical and speculative. We are coming for a new perspective to the work we've done for several years on what people read when heading for the poles. What is it about the Antarctic that interests you?
Especially the human perception and interpretation of the experience of encountering unexplored territory, in lonely places, and in deeply uncomfortable circumstances. Is the cold different from other kinds of discomfort? What do reflections on the experience from those who have been "there" tell us about the human imagination and condition? What polar projects are you working on or are contemplating?
I (Deirdre) have been "north" for a while but am looking for a new angle on the south. David has been working on the American Seamen's Friends and their library boxes distributed to sailors, those in Arctic and Antarctic waters among them. What are you willing to talk about or show at the SouthPole-sium?
David might want to talk about his very large database on reading in high latitudes. What do you hope to take away with you?
Inspiration and insight. What questions would you like to pose to those attending?
We'd like to know what questions about Antarctic exploration people find reasonable to contemplate, interesting, and legitimate -- and what goes over the line into fantasy, superficiality, and pointlessness. We'd be interested to know what Antarctic data is being processed into artistic output in any media.
25 February 2012.
Dave Hirzel, asks whether "there is airport Super Shuttle service" between Manchester airport and Jaffrey. I'll check further but I think the answer is no. I once took a cab and it was around $80 but I had no choice at that point.
He goes on to say "Would prefer to avoid the expense of renting a car if there are more economical alternatives. It might be feasible to ride-share to and from the airport with other attendees."
As more people register and I have a better idea of who will have a car and who won't, we can perhaps arrange some transport. Of course, this would be easier to do if several people were arriving at the same airport or location at about the same time. He also asks: "Once in Jaffrey, can one get around using public transit?" Sadly, there's no such thing in Jaffrey. But it will help if I can arrange for a Local Host who is located downtown or one where another attendee with a car is staying. I'm sure we can do some car-pooling. Another possibility is borrowing a bicycle for the weekend. I'll see what I can do as the date gets closer. David goes on to say that he "might offer up a talk on Tom Crean's Antarctic adventure for a proposed topic for the conference. I have given a number of talks/lectures based on Crean's life and contributions to Antarctic exploration, and tend to tailor them to the audience's needs or expectations.
Thus:
• Crean as follower to Scott's and Shackleton's leadership, to the merchant officer candidates at California Maritime Academy (Dec 2011)
• Crean's story as an inspirational guideline, to Rotary clubs (Aug 2011)
• "Sailor on Ice," more about the polar ships (Morning, Nimrod, Terra Nova, Fram, Discovery, Aurora, Bear) and their crews generally, to Golden GateTall Ships Society (scheduled for March 2012)
• Sailor on Ice, the book, and Tom Crean. JP Shaw Maritime Library, San Francisco (May 2010)
• Book talks at independent booksellers in the San Francisco Bay Area and Sherman's in Maine.
21 February 2012.
Greg Glade, Top of the World Books, will be bringing "something interesting to display as well as items to sell." Bruce Larsen writes "My great-grandfather, Capt. Johan Magnus Larsen was a manager at Grytviken whaling station on South Georgia, and is the brother of Capt C.A. Larsen. I have a few artifacts from that era and am willing to show them.
Although I have been able to find relatives of C.A. Larsen, I have been unable to find any relatives of Johan Magnus Larsen. His residence in the southeastern outskirts of Oslo in the village of Bekkeloget (also spelled Bakkelaget) remained in the family into the 1950's. Any help on the history or relatives of Johan Magnus Larsen would be appreciated!"
20 February 2012.
Joe O'Farrell, and Jim & Geraldine MacAdam will be arriving in Boston from Ireland on Thursday 14 June; Seamus Taaffe the day before. The four will rent a car and arrive in Jaffrey either Thursday night or on Friday.
18 February 2012.
Joan Boothe, whose recent book The Storied Ice, a history of the exploration of the Antarctic Peninsula—she'll have copies for sale—has received much positive attention, is currently researching a book on the men of the Heroic Age, all 700 of them. She's interested in discussing with others how to go about promoting such a book.
"I'm happy to talk about researching Antarctic history." David Hirzel, whose fascination with the Antarctic began with Tom Crean, has published one book on the great Kerryman—Sailor on Ice—expects to publish the second one (Hold Fast) in the Fall of 2012. Is happy to talk about his writing/publishing efforts at the SouthPole-sium. Isobel Williams, reports "My interest in Antarctica began when I was a junior doctor. On retirement I visited Antarctica and researched the life of Dr. Edward Wilson, Scott's confidant and friend. Whilst writing this biography I became fascinated by the lives of the ratings, those below deck seamen who kept the expeditions going and I have now written the biography of Chief Petty Officer Edgar Evans, one of Scott's loyal assistants."
She's offered to speak on Evans at the SouthPole-sium.
9 February 2012.
Registration seems a bit slow although, of course, 15-17 June is a long way away. I've received only 5 registrations (and one of those is mine!). The difficulty it presents for me is that I have to make some commitments and pay some deposits and if the numbers aren't there to justify everything I'd like to include, I will need to do a bit of budget cutting (like no ice penguin, no steel band). I probably should have offered a lower rate for early registration. So if you're set to attend, please send in your registration as soon as convenient. Tom Henderson has offered to produce a video of the SouthPole-sium which will be later made available to purchase. Tom's done some videos for The Antarctican Society, among others. He also serves as the Society's webmaster. I was thinking of doing a video myself but wasn't looking forward to the work involved, so this will be a great help, plus it is sure to result in a far better product. Karen Ronne Tupek has offered "to give a brief presentation about "The Ronne Family: Explorers of Antarctica" and subtitle: "The Legacy of the Tent left at the South Pole." (Tent made by my grandfather, Martin Rønne, on the Amundsen South Pole Expedition.) She'll have some of her mother's book—Antarctica's First Lady— with her to sell. She's also interested in getting ideas on how to dispose of her father's "fabulous, historic Antarctic library." Robert Pope, Jr. will be talking about some of his father's experiences with Operations Highjump and Windmill and showing some of his photographs. On one occasion, Robert Pope, Sr., met Karen's parents aboard the Burton Island.
---