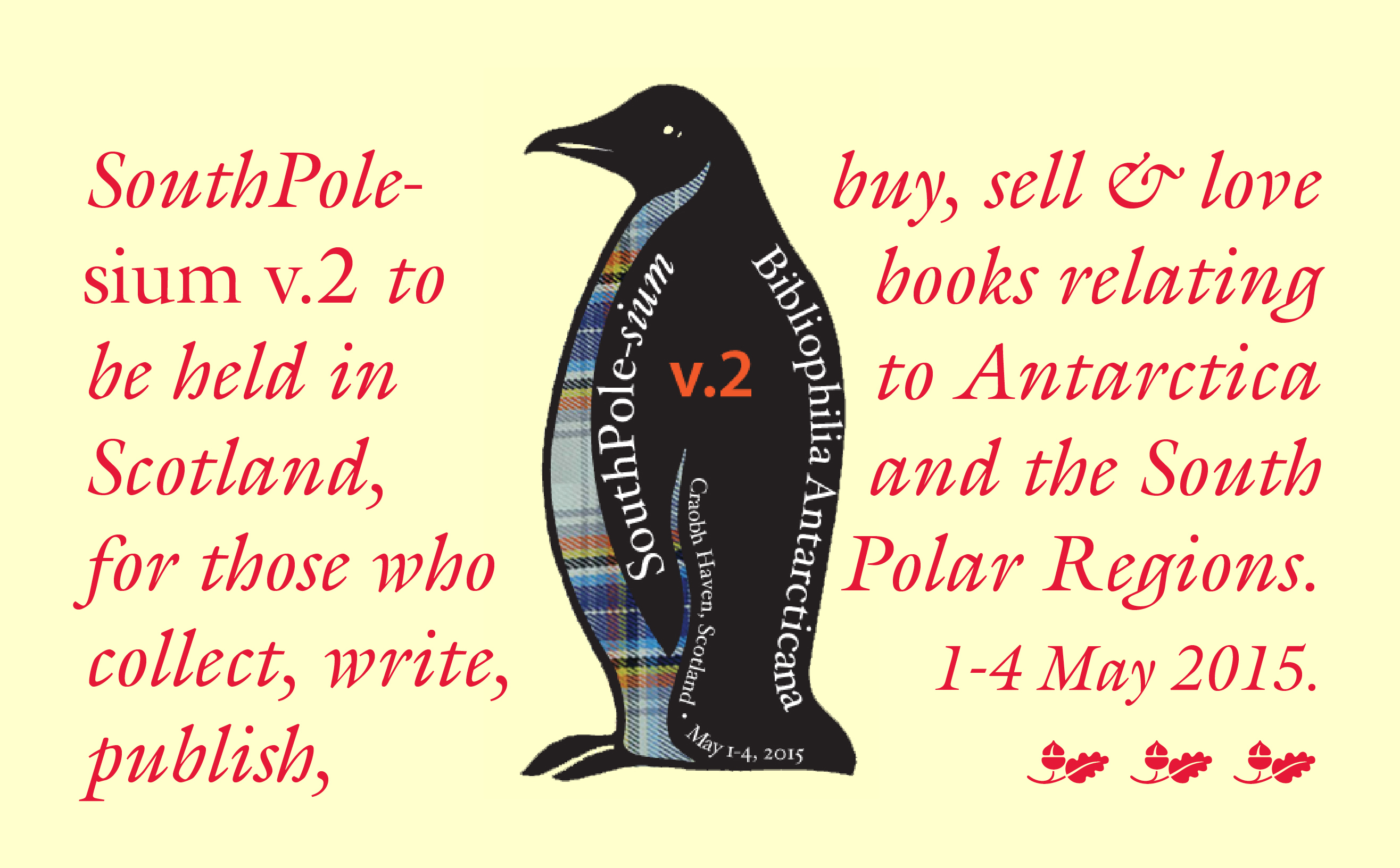 Sponsors: The Antarctic Circle and Falcon Scott
Co-Sponsors: Don Webster (New Zealand), Janice Tipping (England)
Maggs Bros. Booksellers (England), Kingsbridge Books (Paul Davies, England), Meridian Rare Books (Stuart Leggatt, England)
---

Home
Principles of the SouthPole-sium
Blog
Schedule/Agenda
Registration information and Form
Those who have registered
Those who are planning to attend
Those who have expressed interest in attending
Subjects of talks proposed to be presented so far
Subject ideas for talks that might be presented
Craobh Haven
Lunga House, our venue
Accommodation options
Links relative to Scotland
Wardroom Dinners on board the Discovery in Dundee
Updates & E-mails
Comments from those contacted

---
SCHEDULE and AGENDA
This will expand and change as the SouthPole-sium approaches.
FRIDAY (1 May 2015)
Registration, informal discussions, socializing during morning and afternoon, for early arrivals.
Opening reception. Probably 6pm. Either at Lunga House or down on the shore (somewhat weather dependent). The reception will morph into a barbecue or other type of light supper.
Possibly some sort of entertainment; perhaps by one or more of the attendees; perhaps some traditional Scottish music. Show & Tell SATURDAY (2 May 2015)
Welcome by the sponsors. 'Housekeeping' items. Some words on Lunga House & Craobh Haven. Attendees introduce themselves and their interests (morning). Followed if time by short presentations, book launch(es).
Lunch. Sandwiches, etc.
Afternoon. Expanded talk (40 minutes) on Scotland in the Antarctic by Bob Headland. Followed by short presentations (up to 15 minutes) through the end of the day.
Evening. Reception followed by the Banquet, concluding with a ceilidh and/or other entertainment. Short after-dinner talk on Scurvy by Bob Burton. SUNDAY (3 May 2015)
Continuation of Saturday's presentations and discussions. Book launch(es). At least one moderated discussion.
Lunch.
Perhaps a short excursion of some sort near the end of the day.
Drinks and something to eat at The Lord of the Isles pub down in the village (cost not included in registration). MONDAY (4 May 2015, Bank Holiday)
Continuation of Sunday's presentations and discussions. At least one moderated discussion.
Lunch. Sandwiches, etc., followed by wrap-up discussions and farewells. Book launch(es). NOTE: We will strive to keep talks to 15 minutes. This was a challenge at the first SouthPole-sium. One longer talk—40 minutes—is a possibility. Perhaps a talk on the history of Scotland's association with the Antarctic. Any volunteers? Some attendees will be going to Dundee to attend dinners in the Wardroom aboard Discovery on both Monday and Tuesday evenings. See gathering2-wardroom.htm for more information.

---