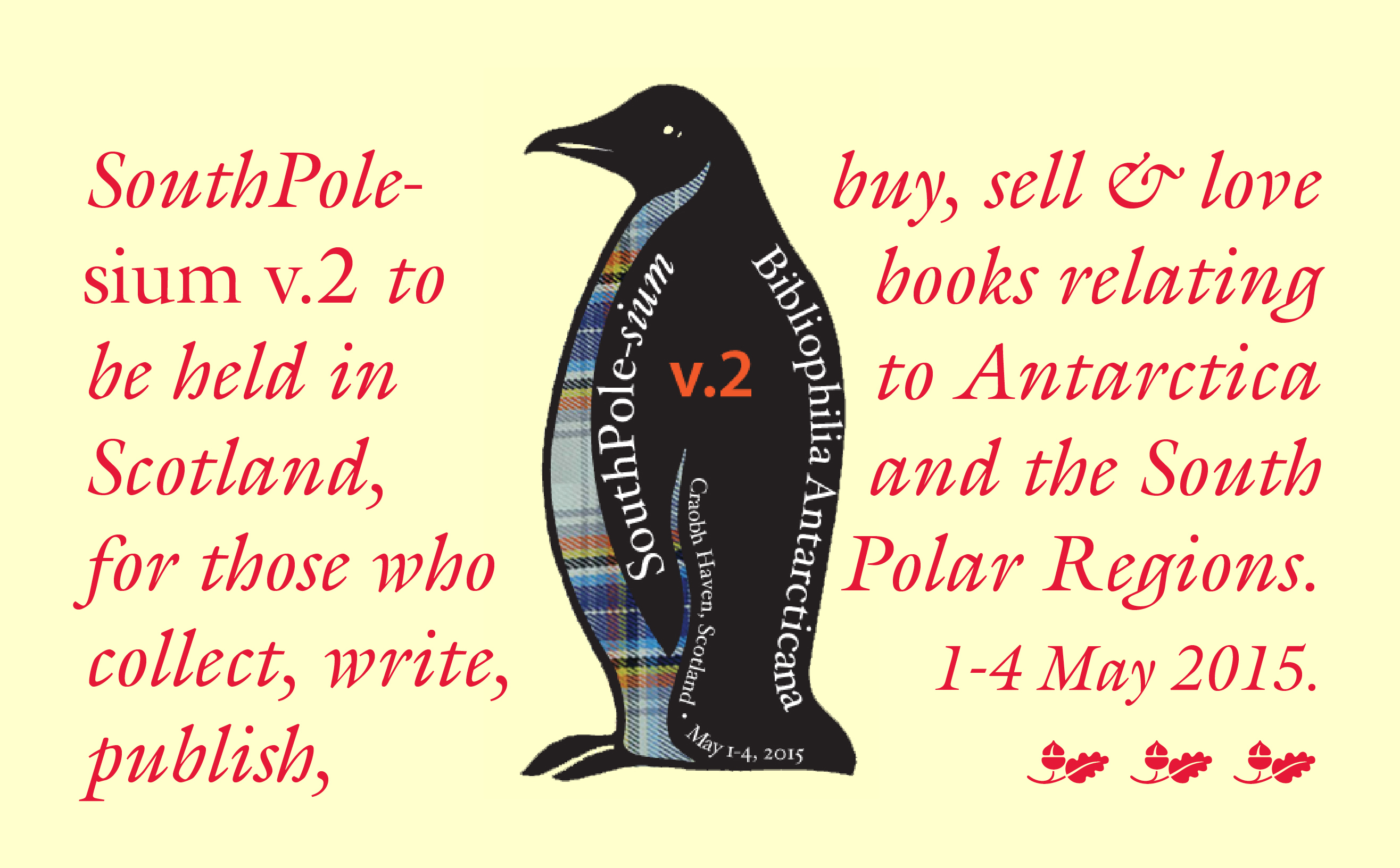 Sponsors: The Antarctic Circle and Falcon Scott
Co-Sponsors: Don Webster (New Zealand), Janice Tipping (England) Joan Boothe (USA)
Maggs Bros. Booksellers (England), Kingsbridge Books (Paul Davies, England), Meridian Rare Books (Stuart Leggatt, England), Fram Museum (Geir Kløver, Norway)
---

Home
Principles of the SouthPole-sium
Blog
Schedule/Agenda
Registration information and Form
Those who have registered
Those who are planning to attend
Those who have expressed interest in attending
Subjects of talks proposed to be presented so far
Subject ideas for talks that might be presented
Craobh Haven
Lunga House, our venue
Accommodation options
Links relative to Scotland
Wardroom Dinners on board the Discovery in Dundee
Updates & E-mails
Comments from those contacted

---
FAVORITE PHOTOS
Those entries received will be projected sometime during the SouthPole-sium and the winning photo will be chosen by ballot.



Entry 1: The photo of these three penguins was taken on South Georgia—the only place all three species exist together.

---





Entry 2: Lemaire Channel at sunset.

---





Entry 3: This photo of penguin and whale bones was taken at Neko Harbor.

---





Entry 4: This one doesn't really count as the entrant didn't take the photo, doesn't know who did and isn't positive it's Antarctic. In any event, here it is.

---





Entry 5: Canada Glacier.

---





Entry 6: Near Edisto Inlet.

---





Entry 7: Near Cape Adare.



Entry 8: Albatross on Bird Island, South Georgia.



Entry 9: Yankee Bay, South Shetlands,1999.



Entry 10: Photo of 9 of the Discovery crew modelling their fur skins whilst Discovery was being kitted out at East India dock in London in July 1901. In all the various books I have come across, etc, I have not seen where these men are identified individually. I would be quite interested to know their identities if any of the attendees can shed any light. I believe that Petty Officer William MacFarlane (with his distinctive high forehead) is the man third from the left, but I stand to be corrected if any attendees have greater knowledge?



Entry 11: Team photo of the Polar Search Party (including "non playing substitute", W. Archer) before they set out to search for Scott and the polar party.
Back row, left to right, Archer, Hooper, Nelson, Atkinson, Cherry-Garrard, Lashly, Crean.
Front row left to right, Gran, Williamson, Keohane, Wright, Demetri.



Entry 12: This photo is a particular favourite of mine, taken of the Mid-Winter feast at Cape Evans in June 1912, with from left to right William Archer, Williamson, Crean, Hooper, Keohane and Demetri.

---